I heard about a recent conference called "Modern Data Stack 2021" which seemed interesting. I watched some of their talks and learnt quite a bit. My notes below.
Fantastic data products and how to build them (video link)
by engineers from 4Mile Analytics and Betterhelp
A data-product will enable data driven decisions by providing a highly customized, action-oriented experience.(not just viz)
Requires as foundation a well governed, trustworthy data stack
Usually companies uses 3rd party BI tools, sometimes they need to go beyond that for a customized internal UI
Demo at https://demo.4mile.io/ (showing truck traffic via IoT data from trucks)
Demo app has notifications, has a clickable action to message truck driver, along with visualizations
It also includes an embedded Looker dashboard
Core tenets: i) Empathy ii) Trustworthy iii) Agility iv) It's a Product
Betterhelp is building an app around these principles
They're using dbt as a core piece
They have tests and documentation for all their models

Nice lineage view is available for dbt transformation pipelines (solves a big pain point)
Design patterns: version controlled, democratized biz logic and data modelling, proactive alerts, data and schema testing, observability
What Modern Data Architecture is, really? (video link)
by an architect at Snowflake
Data Arch has got stagnant and uses outdated patterns
Data gets siloed in large orgs
The shift to Cloud data platforms enabled SQL and fast answers compared to on-prem Hadoop
Snowflake: Enable SQL and single platform for all use cases (avoid silos)
We created data cubes because the data warehouse can't scale
Then we scaled data warehouse using file based data lakes
Then Spark-like systems operate on subsets of files and create their own cubes. Again, leading to silos.
Snowflake is the one platform to support all your workloads
Your next data warehouse is a Lakehouse (video link)
by two data architects from Databricks
More companies are having to become data companies, and their data maturity levels are still low
There is a fragmented landscape of data tools, your data too ends up getting siloed as a result. Other side effects are data discrepancies, issues with governance
Data lakes and warehouses are complementary, with different benefits
Data lakes are good to do ML on – support for different formats, unstructured data. Note that fundamentally you're working at file level
Warehouses are great for tabular style BI but not for ML
Unifying the two would be great. This is what Delta Lake does!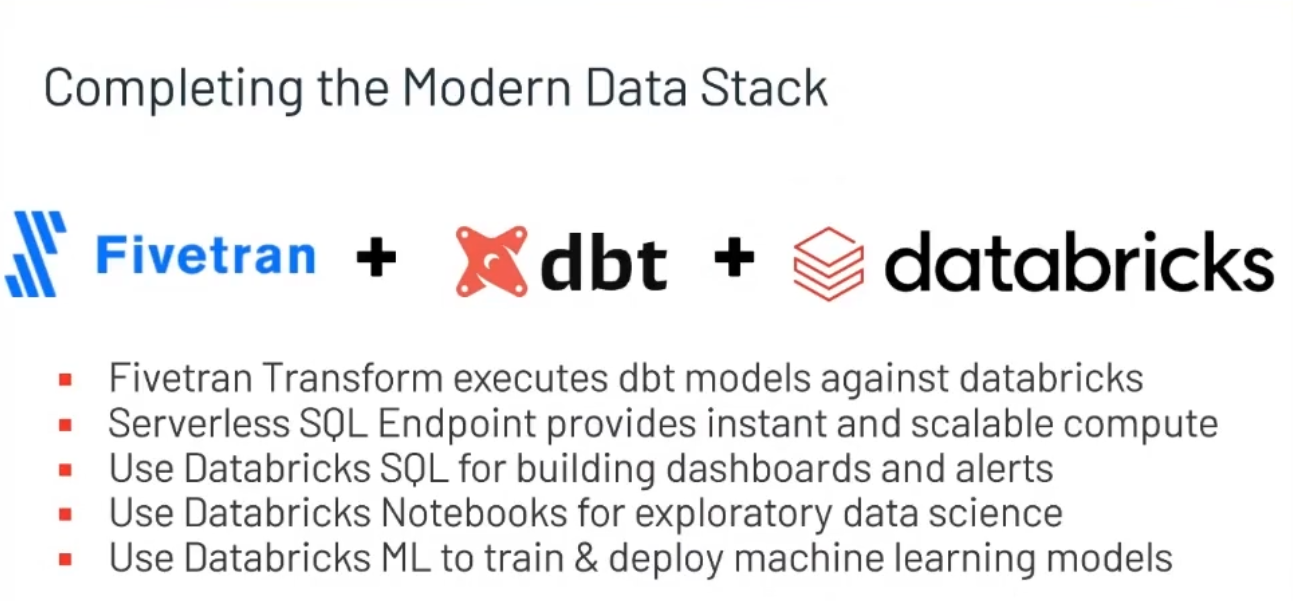 DL brings data mgmt and governance to data lakes
You don't work at file level though
Supports indexes which makes queries many many times faster
Databricks DL is open standards and open source
It's collaborative across teams
Fivetran + dbt + Databricks is a good combo for a modern data stack
Databricks SQL allows customers to have data warehouse performance on top of their DataLake. They've built a vectorized SQL engine called Photon in C++. It leverage SIMD chips.
Databricks SQL also has a Serverless Compute offering. They can spin up a new cluster in 15 seconds. No need for you to do capacity management and allocate resources
Some optimizations on how BI tools interact with Databricks through SQL
There are improvements on the ML side
AutoML is a transparent way to generate baseline ML models. You only need to indicate which column in a DataFrame you need to predict
Feature Store improvements
How to accelerate analytics with a modern approach (video link)
by engineers from Sisudata and Fivetran
Transformation is a high value activity
We're in the "information collection" age, not yet in the "information age"
dbt focuses exclusively on transformation
dbt handles transformation entirely within the data warehouse – there's no extract or load
Analysts can express their transformation in code (SQL)
It is designed around SQL files, YML and an open source Python package
The transformation process is idempotent

Helps analysts iterate, re-rerun etc esp as schema gets updated

It's a hard concept to wrap your head around, and took him weeks too
Sisu is a decision intelligence platform focussed on speed of end-to-end results
dbt packages include bundled analytics and other transformations: That's game changing, Two lines of code to start integrating hubspot data!
A new fivetran feature is Integrated Scheduling with dbt
Fivetran Future Roadmap (video link)
by the VP of Product at Fivetran
Fivetran has 200 engineers
Highest priority is reliability of data delivery
Column masking
Mirror GDrive etc folders into warehouse tables
Links through VPC without using public internet. All data encrypted at rest and in motion using customer's keys!
Facilities to onboard customer data from external sources
Integrated scheduling with dbt core
They've built many prebuilt data modelling packages (linkedin, jira, youtube, salesforce etc)
New Kids on the Block (video link)
A 5-minute presentation each from a bunch of startups
Firebolt – firebolt.io
Platform for all analytics workloads
Users: data engineers and developers
Eg: SimilarWeb crunches over 200TB in seconds!
2. Hex – https://hex.tech
Collaborative analytics workspace (Python + SQL + UI)
Can generate interactive data apps
Eg: 60+ users across teams are collaborating one customer account
3. Materialize – https://materialize.com/
Simplest way to get started with streaming. A simple fast SQL streaming experience
Built from the ground up as a streaming database to enable streaming analytics
SQL is Postgres compatible
Also available as a cloud product
Eg: A financial services firm need quick, heavy queries on OLTP data. Materialize let them join data in Kafka with data in Postgres!
4. Transform – https://transform.co/
(Business) Metrics store
Enables data analysts to define consistent metrics across all of a company's products. Enables metrics governance at scale.
They believe inconsistencies in metrics is a key problem in making data accessible
Eg: Netlify is a customer
5. Select Star – https://selectstar.com/
Automated data discovery tool
They gather usage stats to know most frequent columns, tables etc
You can search across all database and BI tools
There is Lineage, tagging
Eg: Pitney Bowes company uses Select Star as a metadata management tool
6. Treeverse – https://treeverse.io/
Git like repository for data objects
Eg: SimilarWeb is using Treeverse to manage data related to ML experiments
7. Tellius – https://www.tellius.com/
AI Driven Decision Intelligence problem
An AI layer sits on top of data, queries can be via NLP
Use cases: Segmentation, anomalies
You can get subsecond response for adhoc queries at scale
Eg: A Fortune 10 company was able to figure out why high loan delinquency rates were happening
8. Atlan – https://atlan.com/
Collaborative workspace for moden data teams
i) Reusability of data assets ii) Lineage iii) Embedded collaboration (URLs for data assets etc)
Eg: Unilever got more visibility into their data lake and use Atlan as the portal to that